2017 Cabernet Sauvignon

Aged for nine months in French oak, RayLen's Cabernet Sauvignon is rich in flavor and body. Luscious tones of leather and tobacco are followed on the palate by cherry and baking spices. Pair this wine with Rack of Lamb in a Chimichurri sauce for a delightful experience.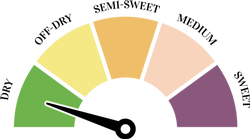 Product Reviews
Thomas Buck
(Oct 17, 2020 at 12:25 PM)
Not quite as heavy as the Franc, but still a real pleaser, a nice in between Merlot and Franc, smooth and I think it's a winner with just about any dinner... wife loves it!