2018 Merlot

RayLen's Merlot is deep and smoky with softened tannins from its time in French oak. Ripe blackberry and cherry can be observed on the palate with layers of toasted vanilla and fennel. Pairing this wine with Duck A L'orange would be a true experience for your palate.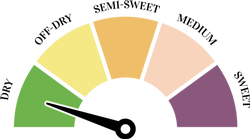 Product Reviews
Thomas Buck
(Oct 15, 2020 at 1:34 PM)
A softer but full enough bodied wine to go with a good burger. Great option in the red category!