Fat Saturday 2021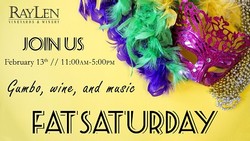 Join RayLen for our 18th Annual Fat Saturday Gumbo Festival!
Celebrate Mardi Gras with authentic Cajun Zydeco band Bayou Diesel and delicious authentic New Orleans style gumbo. Search for a baby in your very own piece of king cake and enjoy a complimentary glass of wine.
Laissez les bons temps rouler!
Ticket purchase is per person and includes: entry to the event, one bowl of gumbo, a slice of king cake, and a complimentary glass of wine. See ticket pricing below.
Ticket Pricing:
Non-Members: $15 per person ($20 at the gate)
Children over the age of 10- $5 per child
Case Club Members- $10 per person ($15 at the gate)
Cork and Premier Members- free with advance reservation ($5 per person at the gate)
This is an Adult Ticket. To purchase a child ticket click HERE.

Members must log in to receive their appropriate discount online.

**Online Ticket purchases will end Friday, February 12th at 6pm, but you can still get your ticket at the gate on Saturday!**